The debate between baseball lifers and baseball stat nerd (I happen to be BOTH!) really heats up when the topic of bunting comes up.   The problem is both seem to be very absolutist about their view.  Baseball lifers love bunting and wax poetic about its virtues.  Stat nerds view bunting as if the offending team is just giving up and is not interested in scoring.  As you might imagine, being both a "baseball guy" and a stat nerd, I have a bit more of a balanced approach.
It is a fact that the team who generates more big innings (three runs or more) wins the game a large majority of the time.  It is difficult to sustain offense by scoring single runs in an inning, and it is difficult to generate big innings when giving up outs.  In amateur baseball, you only get 21 of them.  Make three outs on purpose by "sacrifice bunting" and you have just given away an entire inning.
There are instances where a pure sacrifice makes some sense.  If you are trailing by a single run, or tied late in the ball game, moving a runner from second to third with nobody out (sacrifice resulting in the first out) will increase a team's chances of scoring exactly one run, but decreases their chances of scoring more than one.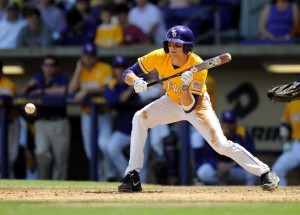 So if the value of bunting is not giving up an out to advance a runner 90 feet, how do I satisfy the baseball guy in me?  It's simple.  Use the bunt to generate big innings.
Change the paradigm of your bunting game.  Don't make it a passive "I'm giving myself up for the good of the team" action.  Even though this is a good lesson for players, that lesson can be taught in other ways.  Make bunting an aggressive "I'm trying to create havoc" action.  Emphasize the bunting game in practice to the point where players are able to execute bunts that are difficult to field.  Bunts back to the pitcher or that be easily fielded by the pitcher to do not accomplish this goal.
Teach your players to bunt so that the third baseman has to field it, and has to make an off balanced throw.  Remember the goal is to create havoc and put pressure on the defense.
Below are the list of outcomes from bunting from best to worst:
1.) Defense commits an error, runners and better advance several bases.
2.) Baserunner and batter are both safe.
3.) Baserunner advances, but the batter is out.
4.) Lead runner gets thrown out.
5.) Strikeout, no runners advance.
6.) Double play.
Since the goal of bunting is to create havoc, only outcomes one and two are viewed as positive.  Outcome three, advancing runners, but making an out is a neutral result, and outcomes four through six are negative.
More detailed information on using the bunting game to create big innings, the techniques of bunting, bunting for a hit, and squeeze bunting can be found in our Generating Offense and Hitting online course which is just a small part of our whole site membership.
For more great baseball coaching content like this, check out our complete website membership which includes all of our online courses, special video tips, and mini clinic available to members only, monthly video analysis, eBooks, video lessons, and much more!
Our "Small Ball, Big Innings" online course is just the tip of the ice berg in our Cornerstone Elite membership.  Check it out here: