I heard something disheartening today from friend of mine who is a parent of very involved youth athletes.  They have a championship game in 9U flag football this Saturday that conflicts with a soccer tournament.  All of the players on my friends son's flag football team are also in the soccer tournament.  The league gave both teams permission to reschedule the flag football game for later in the day or later in the week.  The opposing coach has refused to reschedule even though they have been trying to find a common time for weeks, and is insisting on winning the championship by forfeit.
My biggest problem with this situation is not that a championship will be decided by forfeit, because in two years (let alone 10 or 20 years), nobody will remember who won the 9U flag football championship.  The problem with this situation is that his lack of willingness to reschedule a game has robbed kids of an opportunity to participate in a sport that they really enjoy.  The kids are not disappointed that they won't get to win a chance to win championship, they are disappointed that they are not getting an opportunity to play the game.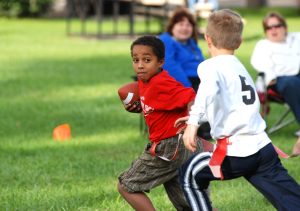 This type of thing happens all the time at the high school level.  We are constantly working our schedules around band and choir concerts, graduations (we had our sectional championship game moved two years ago to accommodate our opponent's graduation ceremony), and many more events.  A little cooperation goes a long way and sets a great example for kids to emulate.
As a youth coach, always remember what is most important... the players.  This coach is not putting the players first, he is putting winning and outcomes first.  This coach is missing a great opportunity to teach his athletes a lesson about cooperation and to allow the players to participate instead of punishing all kids (on both teams) in the name of "winning."