As a young coach, I used to lament that our program didn't have the money to buy pitching machines.  I figured someday I would get the program in the a good enough spot financially that I could afford batting machines.  Now that my program is on solid enough footing financially to purchase luxuries such like these, I have realized that I don't want one.
I DO see where a program would use them.  If a coach is incapable of throwing batting practice, or has an extra tunnel where they don't have a live arm to fill, a batting machine could be an acceptable filler to get players some extra swings.
There are two major components of hitting that a pitching machine fails to simulate.  There is a popular saying in baseball circles that hitting is timing, and pitching is the disruption of timing.  A machine simply does not allow a hitter to work on timing.  When to load, when to get the front heel down, and how to pick up the baseball coming out of a live arm are not simulated.
Next time you go to the cages, watch kids as they hit.  They will probably either stride way too soon, pause and wait for the ball to shoot out of the machine, or be taken by surprise as the ball shoots out of the machine and not get their front foot down in time.  This simply does not simulate what happens in the game.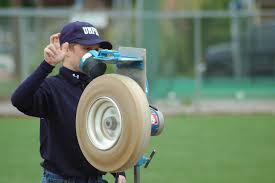 In addition to not giving realistic timing for hitters, pitching machines also fail to give a hitter cognitive interference.  So much of hitting is making a decision on whether to swing or not.  A batting machine takes this decision out of the equation.  You know the pitch is going to be in a specific area and at a specific velocity.
Not having to make a decision prior to executing a skill (like what would happen in a game) makes it difficult for players to translate skills they are learning into competition.  Having a live arm in the cage, even if they are throwing from a shorter distance, requires player to react to the pitch and make a decision prior to swinging.  This much more closely simulates what happens in a game.
Additionally, few pitching machines are at the same release point as a pitcher and few create the same angle of the ball as it approaches the plate as a live arm does.
Pitching machines can be used as an effective training tool, but they should not be the primary delivery method for batting practice.  If at all possible, players need to hit off live arms to develop timing and learn to make decisions on pitches.
My push for the next few blog posts as I ramp up for the 2016 season will be on how to develop pitch recognition, and how to effectively utilize another tool that coaches rely on heavily, the batting tee.
In the mean time, sign up here to get our UPDATED 5 drills that translate practice to game performance:
Get Our Top 5 Hitting Drills Here