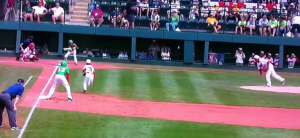 Baseball has often been described as a team game made up of individual match ups.  We often get lost in the individual match ups and forget the team aspect of the game.
The following are 10 simple tips you can take to your next practice to play great team defense.
1.) Get to bunts quickly
2.) Third basemen get to the line on bunts
3.) React properly in 1st and 3rd defense
4.) Keeping the double play in order
5.) No doubles defense
6.) Backing up bases
7.) PFPs
8.) Get one out on a double play
9.) Get an out in two throws or less during a rundown
10.) Get an out on every bunt
For more in depth information on how we implement and emphasize these 10 simple tips for playing great team defense, sign up for our email video course HERE.